Enterprise Manager 13c – What's new and What You Should Know!
You may have heard by now that Enterprise Manager (EM) 13c has been  released and you can't wait to get your hands on the new updates and see what it's all about!   Here's a few things you should know!
What's With the New UI?
Just when you got used to the changes in EM 12c, they go and change it all up again right?  Well, change can be hard, but in this case, I think you'll appreciate a few things.   The overall theme has been updated to match that of other Oracle Products.  Focus is on presentation of the data, so more charts, callouts of number of incidents/errors and tiles that help you get to important information quickly.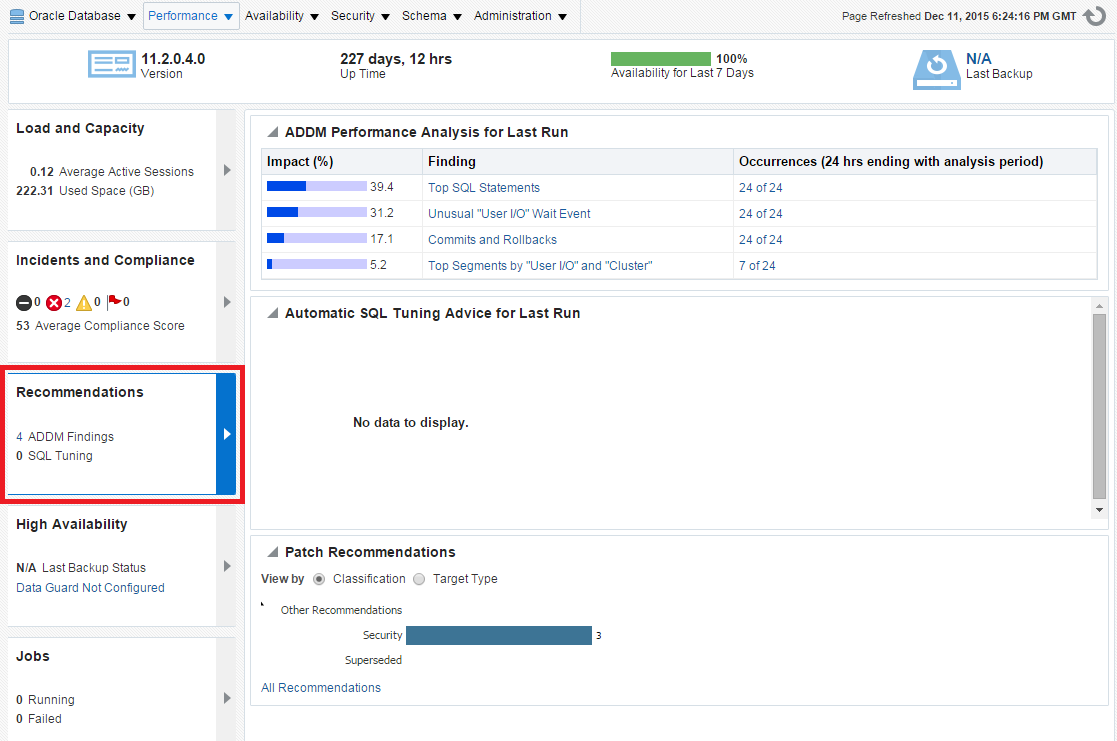 Where did my menu's go?
Instead of a menu on the left for general use, and admin features on the right, the menu bar has been consolidated to the right side of the page.   Once everyone gets used to this, I think that it's going to be a lot easier to navigate and more consistent.  Even I had a hard time remembering, was it on the left menu or the right?  This will take a little to get used to but I think it's much more user friendly.

From left to right:
Next you'll see the Search icon, when you click on the magnifying glass, a search box will appear.  This can be used to search for any target.

The

is new, this will take you to the Notification Center, one of the new features we'll discuss more later.
Finally you have the User Menu 

 where you'll find user preferences and logout.
What versions of WebLogic and Java are installed?
The infrastructure stack for WebLogic is now 12.1.3.0.0, and Java is version 1.7.0.    Both are deployed during the Enterprise Manager install.
What's the upgrade path?
Direct upgrade from Enterprise Manager 12.1.0.3 and higher will be supported.  The Repository database needs to be upgraded to DB 12.1.0.2 first.
If you're still on EM 10g or 11g (we need to talk), you need to upgrade to EM 12.1.0.5 first before you can upgrade to 13c.
Is there a 2-system upgrade?
No, unfortunately, there is no 2-system upgrade so a full downtime will be required.
Can I use my 12c Agents?
Yes, if you're agents are 12.1.0.3 or higher, they are compatible with 13.1.  However, you should plan to upgrade the Agents as soon as possible to take advantage of new features.
A Few New Features
Always On Monitoring Service – A separate service used in planned downtime, will receive target availability and send limited notifications.
Agent Gold Images – Create a standard agent and mass deploy updates with ease.  This will cover provisioning, upgrading and updating agents.    I will be posting about this separately, in detail.
Corrective Actions – Support for corrective actions on all event types (beyond just metrics), and out-of-the box customizable Tablespace corrective action.
Target Properties Master List of Values – Define a list of values for your target properties.
Incident Manager  –  New dashboards and export incident rules. Enough said.
That's a quick summary, but I'll be blogging about more features in detail.  In the meantime, takes sometime to review the New Features documentation.